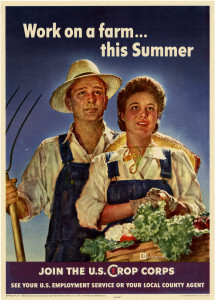 We generally hire 30-35 people at the peak of the summer season. We've fortunate to have quite a few long-time employees who return year after year to help us run a pretty complex operation. Since we have a lot going on with a garden center, farmstand, 5 types of CSAs and a recently acquired Christmas Tree farm, we've been able to attract some great young and older people with an interest in all aspects of agriculture. Many of these employees go on to develop their own diverse farms and CSAs. If you are as excited about the revolution in local agriculture as we are, we hope you'll consider working with our crew to help keep Walker Farm at the forefront of the localvore movement.
For 2016, we will be hiring for the following positions:
Garden Center Sales – Knowledge of gardening and experience with cash register operation required; customer service skills essential.
Farmstand Sales – Experience with cash register and customer service skills required; familiarity with fruits and vegetables preferred.
Greenhouse Worker – Ability to work quickly and carefully with attention to detail required; responsibilities would include watering of plants, learning to spot insect and disease problems, getting along with other workers.
Field Worker – interest in learning more about organic agriculture required; responsibilities might include cultivation, transplanting, irrigation, scouting, harvesting, research projects, high tunnel management, CSA organization.
Below is a link for our employment application, the first step to becoming part of the Walker Farm team: